Nigeria Property Centre, the best website to find properties in Nigeria, today released popular places to rent a 3-bedroom apartment within Lagos state, Nigeria based on the extensive data and information found and listed on their website.
Lekki was revealed to be the most popular place for renting 3-bedroom apartments due to the large volume of properties listed in this local government area with Magodo and Ikeja coming in second and third place respectively. Kosofe and Isheri North were revealed to both having the lowest number of properties listed in 2013.
The most expensive 3 bedroom apartment listed in 2013 was found in Ikoyi going for N45 million naira (forty five million naira only), a slight drop from 2012 when a N55 million naira (fifty five million naira only) apartment was listed. Badagry had the cheapest 3-bedroom property that went for N180,000 (one hundred and eighty thousand naira only) this year, which is also consistent with the property value in the same region for last year.
The 10 most expensive 3-bed apartments listed for rent in recent months are:
Ikoyi   - 6,750,000
Yaba   - 3,000,000
Magodo  - 18,000,000
Victoria Island (VI) - 4,000,000
Lekki   - 11,200,000
Ikeja   - 8,000,000
Ojodu   - 7,000,000
Maryland  - 6,500,000
Isolo   - 5,000,000
Gbagada      - 3,500,000
-- Click the image to enlarge --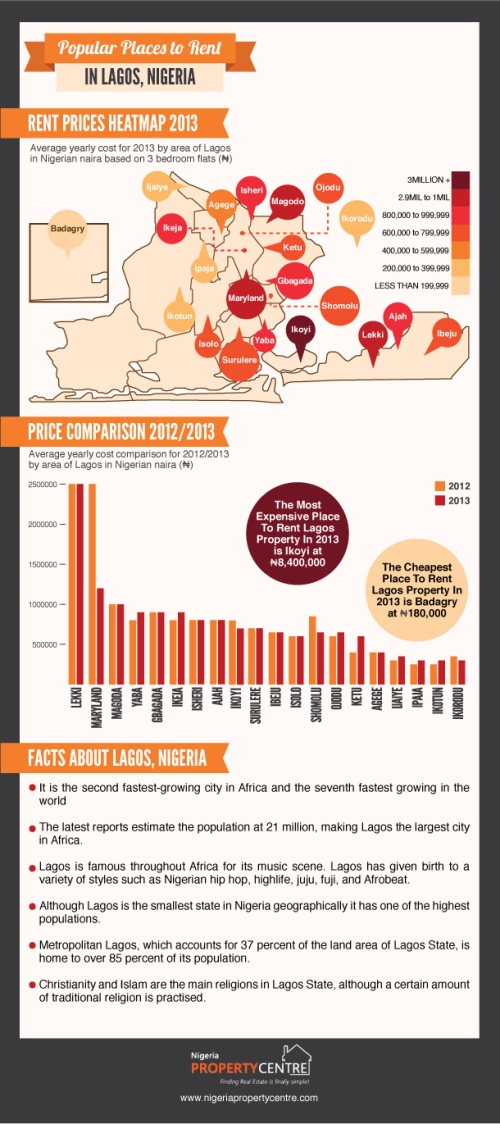 View more reports on 3 bedroom flats for rent across Lagos, Nigeria