Omole Phase II. Credit: Tofunmi Falade
Omole Phase II can be found in the Isheri Local Council Development Area (LCDA), Kosofe Local Government Area of Lagos State. Its neighbouring areas include Olowora, Ikosi Ketu, Ikeja, and the Lagos-Ibadan expressway. Most of Omole Phase II consists of homes, and majority of its residents are working class.
In this guide, you will find out about:
Omole Phase II Estate shuttles. Credit: Tofunmi Falade
Omole Phase 2 is one of the best places to stay on Lagos's mainland. It is heavily populated by the wealthy due to its proximity to Ikeja, the city's capital. It is also one of the lucky areas in Lagos with a very consistent power supply.
Omole Phase II, unlike other estates, has estate shuttles. This is done to make community transportation more convenient. Near the estate gate, there is also adequate security and the presence of banks as well as ATM galleries.
It also connects motorists to the popular Lagos-Ibadan expressway. By passing through Omole Phase 2, you can save up to 20 minutes by avoiding the notorious Berger traffic jam. This route connects Berger, Ikosi Ketu, and Ikeja and is mostly used by locals.
The majority of the homes in Omole Phase II are single-story. There are bungalows and two-story structures, but the most striking structures are the beautiful one-story structures with gates.
It should also be noted that Omole Phase 2 has a sister Phase 1 estate with similar characteristics. Surprisingly, they are not close to one another.
De Prince Supermarket. Credit: Facebook
There are no markets or shopping malls within the boundaries of Omole Phase II because it is a residential estate. But do not worry, there are lovely stores outside its gates for residents to shop in.
Westgate Lifecare Mall serves as a one-stop shop for all of your home's needs. On the ground floor, you can get groceries, toiletries, and other necessities. The merchandise is neatly organised and labelled, and the staff is pleasant and helpful.
The first floor of the mall is where you can get everything from water to alcohol and juice. The pharmacy can be found on the second floor, while the restaurant can be found on the third. A pharmacist is always available to help you. For customers who prefer not to use the stairs, the mall has its own lift. Customers do not need to be concerned about the mall's closing time because it is open until very late.
The mall-owned Westgate Bakery is directly across the street from the main building. Freshly baked pastries and bread are reasonably priced.
De Prince Supermarket also sells groceries, foods, beauty products, beverages, and other items. There is also a village market where you can buy local foods such as crayfish, ogbono, and locust beans.
Tbaaz Creation sells both children's clothing and home accessories. Baby items such as children's party packs, chairs and tables, baby cots, and baby clothes and shoes are available here.
Meros Plaza includes, among other things, a makeup studio, a supermarket, an eye clinic, salons, a pharmacy, a palm wine village, a winery, a boutique, and a diagnostic centre.
Omole Phase II residents can also take the bus to Isheri, which is an eight-minute drive away. Food is reasonably priced in this region. Other thriving businesses in the vicinity of this bus stop sell electronics, clothing, footwear, and other items.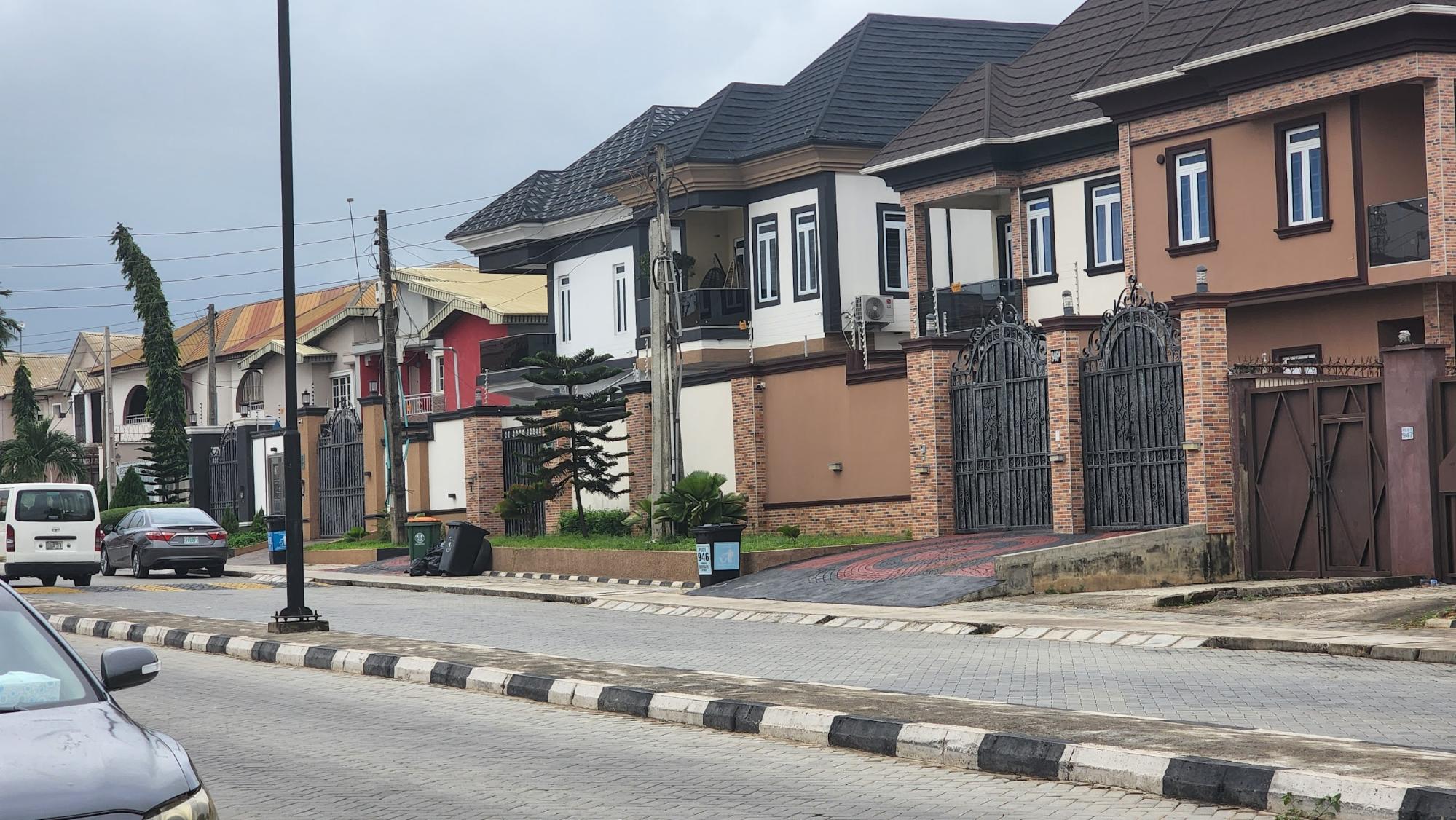 Houses in Omole Phase II. Credit: Tofunmi Falade
Omole Phase II, unlike most estates in Lagos, does not have sub-estates. However, there are many lovely gated houses that will appeal to you.
Omole Phase II is very peaceful and secure, with friendly neighbours. The streets are always clean because uniformed cleaners clean them every day. Residents pay dues to maintain the estate, and vehicles have stickers as well. This means that vehicles without the Omole Phase II sticker are not allowed to enter the estate. The security guards are constantly on the lookout for anyone who breaks this rule.
Another noteworthy aspect of Omole Phase II is its constant electricity; the light is rarely turned off. The road network is also excellent, and at night, street lights illuminate the roads.
Overall, Omole Phase II is a well-planned residential estate with flowers and trees, as well as a good layout and a lovely landscape.
Omole Phase II includes streets such as Lekan Asuni Close, Somide Odujinrin Avenue, Sowande Street, Prince Abimbola Akinyemi Avenue, and Aina Akingbala Street.
Sweet Sensation Restaurant, Omole Phase 2. Credit: Hotels.ng
Residents flock to the popular Sweet Sensation eatery for a relaxing and delicious lunch. Delicious dishes include fried and jollof rice, pasta, porridge, chicken, and many more. Pastries and ice cream are also reasonably priced options.
Jollof rice, akara, fried yam, turkey, and other dishes are also available at the Westgate restaurant. In addition, they offer delivery services.
One of the benefits of living in Omole Phase II is that the Ikeja City Mall is only a 12-minute drive away, ensuring that you are never bored. The Ikeja City Mall, also known as ICM, is Nigeria's busiest shopping centre. Within the mall, there are numerous stores that sell goods such as electronics, clothing, shoes, provisions, phones, skin care products, children's toys, books, home appliances, and a variety of other items. You can also play games and eat at one of the many restaurants in the mall.
Silverbird Cinema, located within the mall, is an excellent choice for moviegoers seeking a memorable cinematic experience. Here you can watch both local and foreign films, as well as new releases, blockbusters, and interesting films. The prices are reasonable, and you can buy snacks like popcorn to eat while watching movies. You can also take your children to see animated movies there. The theatre is spacious, and some movies are shown in 3D and 4D.
Do not forget to check out some of the spas located outside the estate for your spa needs. Hair and Beyond Beauty Salon and Spa, Aramot Skincare, and B'Petite Beauty Palace and Spa are a few examples.
Westgate Arena. Credit: Google reviews
There are no clubs or lounges in Omole Phase 2 to reduce noise pollution. Westgate Arena, one of the neighborhood's hotspots, is still open for clubbing and karaoke.
The arena has a secure parking area and courteous attendants who care about their customers. The relaxing atmosphere makes it ideal for unwinding after a long day at work. Sports fans will have a fantastic viewing experience as well. Most importantly, their food and drinks are reasonably priced.
There is pepper soup, isi-ewu, shawarma, catfish, chicken, fries, and other options. Do not miss out on Suya Institute's incredible beef, chicken, and ram suya.
In addition, the arena has a club with Karaoke nights on Saturdays as well as nightlife vibes with music.
District 10, which is located near Ikosi Ketu, is a great place to hang out with friends or alone. The vibe test is definitely passed. The lounge occasionally hosts artists and celebrity DJs, so you never know who you might run into. District 10 also offers first-rate hospitality and customer service. Among the food options are pepper soup, chicken, and fries.
Doyens School. Credit: Doyensschools.com
Doyens School, located on Somide Odujinrin Avenue, aspires to discover, inspire, and educate children and all members of the school community in order for them to become great leaders who positively impact humanity. The school was founded with the goal of developing uncommon, exceptional leaders through education. It has cutting-edge facilities, an approach to leadership development, an excellent curriculum, and extracurricular activities. It also offers a curriculum that combines British and Nigerian content.
Frantees Home School claims to be the best and only Montessori pre-school in Omole Phase 2. Its mission is to foster a positive and inspiring environment that encourages learning and creativity. Its mission is to develop young global citizens who value leadership, creativity, and righteousness.
Vicsum Private Schools is an Omole Phase II primary and secondary school that provides boarding services as well as British and American curricula. Its mission is to be recognised as a world-class educational institution and to reap the benefits that come with that for its students/pupils, staff, and all other stakeholders. It also aims to provide high-quality education in order to meet future demands.
Other schools in Omole Phase II include Scholars' Crest International School, Wits Ville School, Mind Builders Nursery and Primary School, and Trendsetters Private School.
Do you want to know how much it would cost to live in Omole Phase 2? Here are the average property prices in Omole Phase 2, Ikeja, Lagos.
Some available property in Omole Phase 2