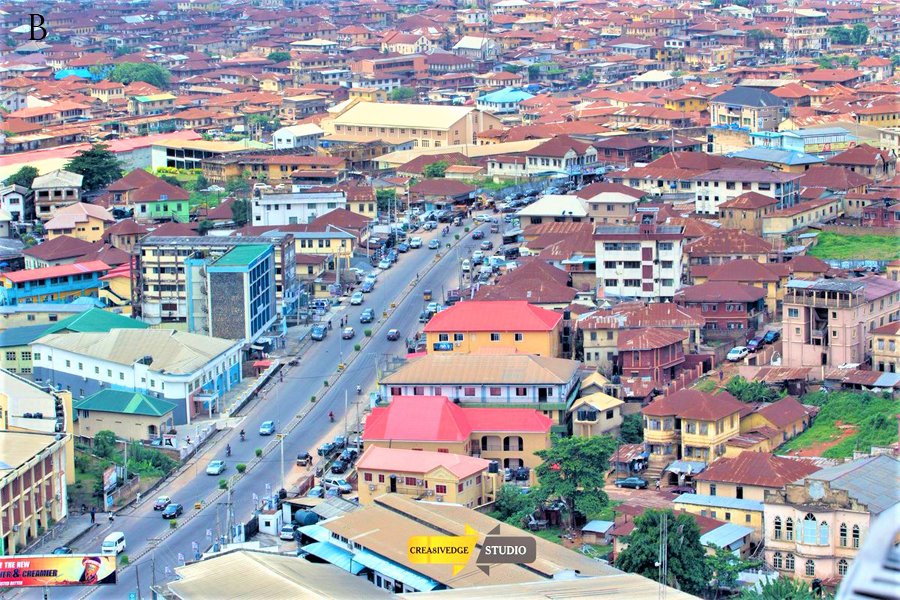 Ibadan. Photo Credit: AutoJosh, Website.
Step into the enchanting city of Ibadan, where history intertwines with culture, and vibrant energy pulses through its veins. Located in Oyo State, this metropolis in southwestern Nigeria proudly wears the crown as the largest indigenous city in the country. Emerging from its birth in the nineteenth century, precisely around 1829, Ibadan has evolved into a captivating destination that harmonizes tradition and modernity. Marvel at its architectural wonders, immerse yourself in its bustling markets and bask in the richness of its heritage. Welcome to Ibadan, where a tapestry of experiences awaits a unique blend of tradition and modernity.
In this guide, you will find out about:
The brown roof city, Ibadan. Photo Credit:Wikimedia Commons,Website.
Ibadan stands out for hosting Nigeria's oldest university, a captivating fact that underscores its educational significance. Established in 1948, the University of Ibadan holds the distinction of being the country's most ancient institution of higher learning. This esteemed university has played a pivotal role in molding the educational landscape and fostering intellectual dialogue within Nigeria.
Ibadan has earned the nickname "City of Brown Roofs" owing to the striking hue prevalent on its rooftops. The roofs, primarily fashioned from corrugated iron sheets, exhibit a distinct reddish-brown or weathered appearance. This captivating color is a consequence of the local clay-based materials employed in their construction, combined with a protective coating of iron oxide paint, ensuring resilience against corrosion. The harmonious blend of these elements has bestowed Ibadan with its iconic landscape of rust-tinted rooftops.
Ibadan holds historical significance as the birthplace of the Cocoa Revolution, marking a crucial chapter in Nigeria's cocoa industry. During the 1960s cocoa boom, the city thrived as a prominent center for cocoa production and trading, playing a pivotal role in Nigeria's ascent as a key exporter of this valuable commodity. Ibadan's strategic position and active involvement in the cocoa trade propelled its growth and cemented its reputation in the annals of Nigeria's agricultural heritage.
Within Ibadan lies a captivating reminder of its illustrious history, the ancient city walls. These formidable structures, dating back to the 19th century, stand as enduring remnants of Ibadan's past. Originally erected as defensive fortifications during inter-tribal conflicts, these walls symbolize the city's resilience and bear witness to its remarkable cultural heritage. Their presence is a testament to Ibadan's enduring legacy and the stories etched within its storied past.
Ibadan pulsates with a tapestry of cultural festivals that unfold throughout the year, illuminating the city's rich heritage and customs. These kaleidoscopic celebrations, including the Oke Ibadan Festival, Agodi Gardens Festival, and Egungun Festival, serve as vibrant reflections of Ibadan's cultural exuberance. These captivating events offer glimpses into the city's vibrancy, allowing locals and visitors alike to revel in the traditions and collective spirit that define Ibadan's cultural landscape.
A noteworthy landmark in Ibadan is the renowned Bower's Tower Memorial. Unveiled in 1936, this majestic tower graces the cityscape, commanding attention with its impressive stature. Rising proudly, it grants visitors sweeping vistas of Ibadan's picturesque surroundings. The tower stands as a poignant tribute to the esteemed Captain Robert Lister Bower, a distinguished British resident whose invaluable contributions played a significant role in shaping the city's growth and progress. The Bower's Tower Memorial stands as an enduring symbol of Ibadan's gratitude and remembrance for those who have left an indelible mark on its history.
Cocoa House.Photo Credit: Art by Oye, Instagram page.
Cocoa House stands as a remarkable architectural wonder in Ibadan, representing a towering 26-story structure that held the prestigious title of being the tallest building in West Africa during its time. This impressive edifice encompasses office spaces, a shopping complex, and an exhibition gallery that beautifully narrates the rich history of cocoa production in Nigeria.
The Shoprite Ibadan Mall, renowned as a favored retail hotspot, presents an extensive selection of both local and international brands, encompassing grocery stores and a vibrant food court. This bustling destination entices visitors with the opportunity to embark on delightful shopping excursions while savoring a diverse array of culinary delights.
Tucked away in the center of Ibadan, Agodi Gardens is a tranquil haven for recreation, offering a respite from the energetic ambiance of the city. This enchanting leisure park showcases picturesque gardens, idyllic picnic spots, a charming mini zoo, and an array of engaging activities, including invigorating boat rides and delightful horseback riding experiences.
Bodija Market, celebrated as one of the expansive markets in Ibadan, pulsates with liveliness, beckoning both residents and tourists to embark on a captivating journey through its diverse offerings. This bustling marketplace presents a treasure trove of goods, encompassing a rich assortment of fresh produce, fashionable attire, captivating arts and crafts, and even traditional herbal remedies, immersing visitors in a vibrant tapestry of choices.
Ventura Mall epitomizes contemporary shopping at its finest, providing an enriching retail experience adorned with a wide range of stores, delectable dining options, and captivating entertainment amenities, including a state-of-the-art cinema.
ACE Estate. Photo credit: Nigerian Tribune, Website.
Alalubosa GRA is an upscale residential area that stands out for its magnificent mansions and meticulously designed streets. The estate exudes an air of elegance and tranquility, surrounded by lush greenery and offering top-notch security measures to ensure residents' safety.
Bodija Estates enjoys a well-deserved reputation as a prestigious residential area in Ibadan. It encompasses a variety of detached and semi-detached houses, perfectly blending convenience and comfort. Residents benefit from its proximity to shopping centers, schools, and other essential amenities.
Oluyole Estate is a highly esteemed residential enclave characterized by its breathtaking landscaping, well-maintained roads, and serene atmosphere. It showcases luxurious homes that provide residents with a secure and comfortable living environment.
Iyaganku GRA holds a coveted status as a sought-after neighborhood in Ibadan, renowned for its meticulously planned layout and upscale residences. The estate offers a serene ambiance, and its prime location provides easy access to major city landmarks.
Akobo GRA shines as a meticulously developed residential area known for its modern infrastructure and thoughtfully designed layout. The estate boasts impressive homes, and recreational facilities, and fosters a strong sense of community among its residents.
Agodi Gardens. Photo Credit: Pulse Nigeria, Website.
Agodi Gardens provides a serene and family-oriented atmosphere, adorned with exquisite gardens, playgrounds, and picturesque picnic areas. This enchanting destination invites families to revel in cherished moments together while partaking in a variety of engaging activities, including delightful boat rides and exhilarating horseback riding. With its family-friendly ambiance, Agodi Gardens offers a haven for creating lasting memories and fostering meaningful connections amidst nature's embrace.
Nestled amidst the lively cityscape, Heritage Mall thrives as a vibrant shopping hub, teeming with an array of stores, boutiques, and dining establishments. This bustling shopping center provides a seamless and convenient retail experience, catering to the diverse needs of its visitors. Additionally, Heritage Mall boasts a food court where patrons can indulge their taste buds with an assortment of delectable culinary delights, enhancing the overall experience of exploring this dynamic retail destination.
Mauve 21, a fashionable restaurant and lounge, has gained a reputation for its chic atmosphere, captivating live music acts, and eclectic menu encompassing both international and Nigerian culinary delights. This establishment presents an idyllic backdrop for commemorating special moments and enjoying the company of friends. With its trendy appeal, Mauve 21 offers a delightful setting where patrons can come together, socialize, and relish a diverse range of delectable dishes.
The university's zoo stands as a well-liked destination for families and enthusiasts of the animal kingdom alike. Drawing in visitors with its charm, this attraction showcases a wide array of wildlife, providing a unique opportunity to observe and gain knowledge about various species. It offers an enriching experience that allows visitors to delve into the fascinating world of animals and deepen their understanding of the natural world.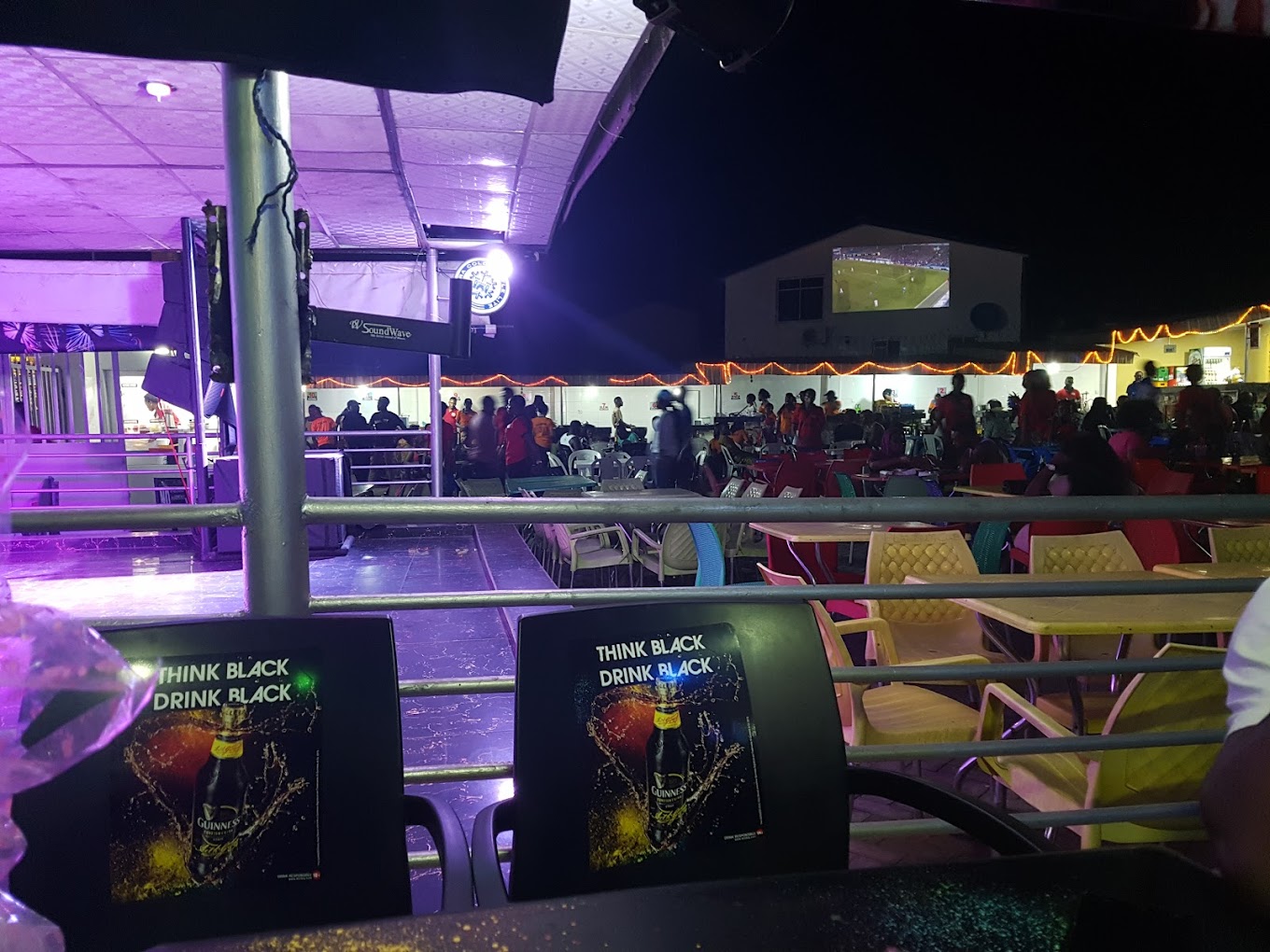 Plat'num Nite Club. Photo Credit: Google Photos.
Renowned as a prominent hotspot in Ibadan's nightlife scene, Cocoa Dome Night Club is a favored destination appreciated for its dynamic ambiance, pulsating live music, and electrifying DJ performances. This lively establishment sets the stage for an exhilarating night out, captivating partygoers and individuals in search of an enthralling and unforgettable experience.
Ventura Mall Cinema stands as an excellent choice for cinema aficionados in Ibadan. This destination offers a delightful opportunity for movie enthusiasts to elevate their night in the city with a late-night screening. By indulging in the cinematic delights provided by Ventura Mall Cinema, visitors can infuse their Ibadan evenings with an extra dose of entertainment and enjoyment.
Embark on an extraordinary adventure by paying a visit to Palm Wine Village, a captivating venue that exudes a traditional charm. This one-of-a-kind establishment invites you to relish the authentic flavors of palm wine and savor delectable Nigerian delicacies while being serenaded by captivating live music performances. Immerse yourself in the vibrant ambiance, unwind, and embrace the rich tapestry of local culture that Palm Wine Village so effortlessly offers.
Club 360, a pulsating nightclub, commands attention for its lively vibe, exhilarating DJ sets, and captivating live performances. This vibrant venue acts as a magnet for party enthusiasts seeking to surrender themselves to the rhythm of the night, creating cherished memories within the realm of Ibadan's vibrant nightlife. Prepare to dance the night away and indulge in an unforgettable experience that Club 360 effortlessly delivers.
University of Ibadan. Photos Credit: The Guardian Nigerian, Website.
The University of Ibadan, which was previously mentioned in the fascinating facts section, holds the distinction of being Nigeria's most ancient university and is widely recognized as a prestigious educational establishment. It provides a diverse selection of undergraduate and postgraduate programs, actively promoting scholarly brilliance and advancing research endeavors.
Renowned for its dedication to delivering exceptional education, Lead City University is a privately-owned institution that has earned a reputation for its commitment to excellence. The university offers an array of academic programs within a nurturing learning atmosphere, making it a magnet for students hailing from all corners of Nigeria.
Affiliated with the prestigious University of Ibadan, The International School in Ibadan is renowned for its provision of top-tier education to students hailing from various cultural backgrounds. The institution fosters a comprehensive educational journey that encompasses all aspects of learning, while actively promoting the cultivation of global perspectives among its students.
Bowen University is a highly regarded private institution celebrated for its outstanding academic achievements and a distinct emphasis on values-based education. The university provides a broad spectrum of programs, nurturing a conducive learning environment that promotes student growth and development with unwavering support.
Do you want to know how much it would cost to live in Ibadan? Here are the average property prices in Ibadan, Oyo.
Some available property in Ibadan