Teslim Balogun Stadium. Credit: newswirengr.com
Surulere is a Yoruba word that means "patience is a rewarding virtue".
Surulere, located on the mainland, is one of Lagos's most vibrant neighbourhoods. It serves as a link between the Lagos mainland and Lagos Island.

Various emancipated African Brazilians and Cubans known as Agudas or Ceros settled in Surulere to join the local settlers of Lagos during the nineteenth century. Popular neighbourhoods include Ojuelegba, Aguda, Ijesha, Lawanson, Bode Thomas, Adeniran Ogunsanya, and others.

Surulere is surrounded by Mushin, Ebute-Metta, and Shomolu.

In this guide, you will find out about:
Aliko Dangote Credit: vanguardngr.com
Surulere is undoubtedly one of the most exciting places to stay in Lagos. Its collection of fascinating facts is nearly limitless. It is a go-to place to experience authentic Lagos life, owing to its location, people, and attractions, among other things.
Surulere, despite being on the mainland, is strategically located between Lagos Island and the rest of the Lagos mainland. It connects both areas in a convenient manner. As a result of this, it is a popular place to live.

If you listen to Nigerian music, you have probably heard of Surulere from various songs. Many notable and popular Nigerians were born, raised, or currently reside in Surulere. Aliko Dangote, the richest man in Africa, former Lagos State Governor Babatunde Fashola, award-winning music artiste Wizkid, top female artist Simi, and others are among them.

Surulere is sometimes referred to as Lagos' sports capital. This is due to the fact that it is home to two international sports venues: the Lagos National Stadium and the Teslim Balogun Stadium. Before it was relocated to Abuja, the Nigerian Football Association Headquarters was also located on Ogunlana Drive in Surulere.

Surulere is also known for its lively nightlife, popular streets, and commercial activities.

PEP Store. Credit: authenticng.com
Surulere will make you want to shop until you drop! As much as it is a residential area, it is also a bustling commercial area with so many places to shop that you will quickly run out of options.

Leisure Mall, one of Lagos' busiest shopping centres, is located in the heart of Surulere. It is a convenient shopping centre with a variety of relaxation and entertainment options. Inside the mall, you will find Filmhouse Cinemas, a variety of food courts, arcade gaming centres, and much more. Everyone, regardless of age or gender, can find something to do.
Adeniran Ogunsanya Mall is located right next to the Leisure Mall. This is Surulere's oldest shopping mall. Within it is the well-known Shoprite. Browse the aisles for gadgets, home appliances, snacks, children's items, perfumes, and much more.
The PEP Store is also located in Surulere. This is your one-stop shop for clothing necessities. They sell a variety of clothing for people of all ages and sizes. There are changing rooms where you can try on the clothes before making your decision.
Spar, Grandex supermarket, and Everbright Supermarket are among the other places to shop. Adeniran Ogunsanya street is particularly densely packed with shops and high-end boutiques.
Check out Aguda market, Census market, and Iponri if you want to shop in open air markets. Look for fresh fruits on Ogunlana Drive.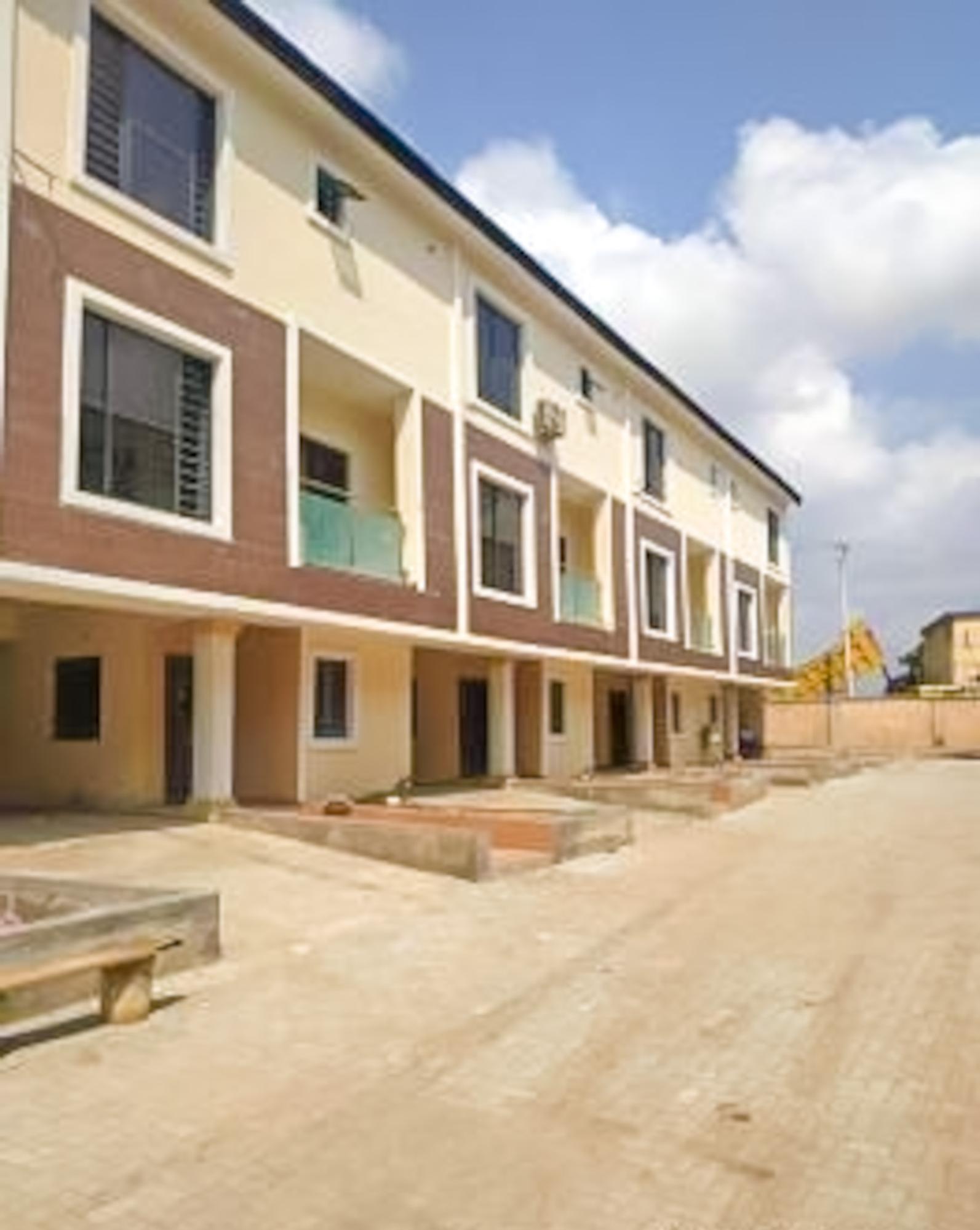 Estate Apartments. Credit: nigeriapropertycentre.com
Surulere residents can rely on a diverse range of housing options. There are a number of options for those who would prefer to stay in estates.
Mutual Alpha Court is a low-cost estate in Surulere's Iponri neighbourhood. The estate is easily accessible from the island and Ikeja, making it a popular choice for people who work on both the island and the mainland.
Alaka Estate is a gated community known for its cleanliness, quietness, and security. It is said to be one of the best places in Lagos to raise a child. The estate contains schools, hospitals, churches, and other social amenities.
The Dayspring Garden estate is located northwest of Ajegunle Creek. It is one of the most luxurious and peaceful neighbourhoods in Surulere.
LSDPC housing estate and Royal estate are two other notable estates in Surulere.
National Arts Theatre. Credit: channelstv.com
Surulere, one of the busiest areas in Lagos, lives up to its reputation by offering a plethora of places to visit during the day. You can eat at any of the restaurants, or you can watch a movie, drama, or a football game.
Sport enthusiasts can participate in mini-competitions or watch a good game at either Teslim Balogun Stadium or Lagos National Stadium.
Teslim Balogun Stadium, named after the former footballer, once hosted the Nigerian FA Cup final. It is primarily used for football matches and is located directly across the street from the National Stadium.
The National Stadium is a multi-purpose venue with facilities for swimming, rugby, athletics, and table tennis, among other sports. The stadium has previously hosted several international competitions, and it now caters to its residents who want to swim or participate in exercises to keep body and soul in sync.
The National Arts Theatre is the place to go if you enjoy drama, culture, and history. It was created in order to preserve and promote Nigerian culture and arts. It has a modern arts gallery, a 5000-seat main hall with a collapsible stage, and two cinema halls.

If you enjoy movies, Filmhouse cinemas have a number of blockbusters to choose from. It is in the Leisure Mall. While you are at it, grab some popcorn and a drink.
Surulere has a plethora of restaurants and bukas. Ofada Boy Restaurant is well-known for its delicious ofada rice. They also have a good selection of Palm Wine and seafood. The atmosphere is traditional, and the menu is reasonably priced.
Get some pizza from Domino's and some shawarma from 'Best shawarma.' SweetCity also serves delectable cakes and pastries.
Do not forget to treat your skin to some TLC at Beauty Beseech Spa or House of Phreedah body care and spa.
The list goes on and on. Other popular attractions include Eagles Square, Kernel Park, Creamslices Cafe, The Cabin, and others.
X-Factor Lounge. Credit: nightlife.ng
Even at night, Surulere continues to erupt. As one of the Nightlife kings, there are lounges, bars, and nightclubs strewn about. Simply choose one.
The old school generation spot is an outdoor bar where you can relax with your catfish and a drink. They have a stage where live performances and shows are held, especially on weekends.
G51 Nightclub and Lounge is a lovely rooftop venue. The decoration and artwork contribute to the overall aesthetics. It has a restaurant, a bar, and a club on different floors of the building and is a popular hangout for the upper crust of society.
The Place nightclub has comfortable VIP areas, a rooftop lounge, and daily lineups such as Loud Wednesday, Cruise Thursday, and Spotlight Saturday, among others. On certain days, ladies receive free drinks.
De crib night club, also known as Big Time Ballers, caters to the wild ones who are ready for a freaky Friday.
Other clubs include the X-Factor Lounge, Zeros Lounge, Admirals Restaurant and Bar, Fortys Bar and Lounge, Jacoin Sports Lounge, Lions Den, Ace Bar and Lounge, Lavender Nightclub, Lounge 38, and many more.
Princeton Schools. Credit: princetonschools.com
Are you concerned about finding the best school for your children? The importance of good schools in our children's lives cannot be overstated. Surulere contributes by providing a variety of options for parents in the area.
Great Esteem School, Pampers Private School, Princeton School, Topgrade Secondary School, The Nickdel School, Fountain Heights Secondary School, Broadway International Schools, and Kids Court School are just a few of the schools that have made quality education available.

Princeton schools, which were founded in 1983, provide nursery, primary, college, and post-secondary education. There is also the option of either day or boarding.

Great Esteem Secondary School provides a well-rounded education that prepares students for the rigours of university life and a prosperous future.
Pampers Private School is located in Alaka and provides an international standard of education by combining Cambridge and Nigerian curricula.
Do you want to know how much it would cost to live in Surulere? Here are the average property prices in Surulere, Lagos.
Some available property in Surulere