Ojo, within Lagos
Ojo is a town in the metropolitan area of Nigeria's commercial capital, as well as a Local Government Area inside Badagry, one of Lagos State's five administrative divisions.
According to history, Esugbemi, his wife Erelu, and Osu, a chief priest who migrated from Ile-Ife, the Yoruba race's original home, founded what is now known as Ojo.
According to this legend, Ojo took 500 years to create and was given the name "Ilufe" by its builders. However, Ojo as a Local Government Area was established in 1967 as one of Lagos State's 20 LGAs and is one of four in the Badagry Division, with the others being Amuwo-Odofin, Ajeromi-Ifelodun, and Badagry LGAs.
In this guide, you will find out about:
Brymo Credit: Spotify
As a Nigerian, you've probably heard of the famous Alaba International Market. What you may not know is that it is Nigeria's and West Africa's largest electronics market.
The 43-year-old market is right here in Ojo. It is known for selling a wide range of household goods and offering services like appliance repair.
Daily business transactions and market popularity have had a significant and positive impact on the economy of Lagos State. It has drawn investors and electronics dealers from all over the world, thereby increasing the market size and population.
Ojo also houses the state-owned Lagos State University (LASU), one of Nigeria's most prestigious universities. In the Times Higher Education World University Rankings for 2020, the school was ranked as one of the top 600 universities in the world, which brought it praise from all over the country and the world. The World Bank has also contributed money to the project.
It is also interesting to note that Olawale Olofooro, best known by his stage name "Brymo," was born in Ojo. On May 9th, 1986, the multi-award winning 'Oleku' crooner was born in Okokomaiko, a renowned town in Ojo.
Alaba Int'l Market Credit: The Sun Newspaper
Alaba Rago is an Ojo livestock market that sells a variety of animals such as cattle, goats, sheep, and birds such as chickens and turkeys. "Rago" is Hausa for "Sheep." It is arguably the market with the greatest influx of livestock from the northern part of the country, with animals arriving from Kano, Sokoto, Katsina, Kebbi, and other states.
Alaba International Market is West Africa's biggest electronic market. You can buy electronics, computers, lighting, and other home appliances at wholesale and retail prices all in one place.
Ajangbadi is a local open-air market on Igbede Road that sells mostly food and other household items like drinks, raw foodstuffs, clothing, skincare products, and so on. The market is developing, and it is typically 'Lagos-standard busy.' Food can be purchased at lower prices in this market, making it one of the most popular options in Ojo.
The Twins Faja Supermarket is the place to go if you prefer to shop indoors. A variety of items are sold here, ranging from home-made goods to groceries. It is also wheelchair accessible, with ramps and a parking lot. The employees are extremely friendly, and you can expect a pleasurable shopping experience.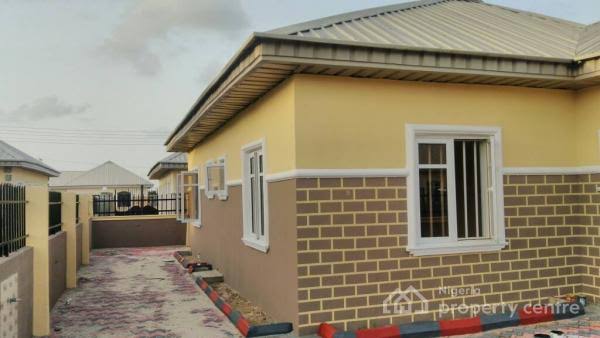 A property in Teju Royal Estate Credit: Nigeria Property Centre
Post Service Estate was originally intended as a residential quarters for ex-servicemen, but it has since opened to other members of society, including students from Lagos State University, which is just a few blocks away. It is located along the LASU-Iba road and offers basic housing amenities such as security, power supply, and good ventilation due to the estate's abundance of trees and other plants. It is also a good option when it comes to affordability in terms of both rent and full property purchase.
Consider the Teju Royal Estate in Ojo as well. Its tranquil atmosphere stems from its location along the Lagos-Badagry expressway. It is both easily accessible and extremely secure. The estate security team takes no chances when it comes to making it a very safe place to live. Teju Royal Estate has a good road network, reasonable spacing, and a cool environment, among other things.
If you choose Ojo as your home, you also have the option of residing in Iba or New Haven Estates.
Ilashe Beach. Credit: Flickr.com
Ojo is distinguished by its combination of dry landmass on one side and swampy creeks and sandy beaches on the other. There are, in turn, many beaches and beach houses where you can relax and have a great time. Some of these beaches include Ishahayi Beach, Ilashe Beach, FMC Beach Hut, and Mansours Beach Hut.
Ishahayi beach is a nice place to relax and enjoy nature's beauty. During the festive and holiday seasons, it is usually a hive of activity and a great place for picnics and other types of get-togethers.
Ilashe Beach is one of Lagos's most opulent private beaches. It is ideal for group trips, retreats, picnics, and parties, as well as a weekend getaway. On the beach, there are different types of beach houses for people with different budgets.
Residents of Ojo can go on movie dates at Masas Cinema. It is located in Alaba Rago Modern Market and is an excellent choice for watching great Hollywood, Bollywood, and Nollywood blockbusters without having to deal with Lagos traffic outside of Ojo. To make your movie experience memorable, they have great fast-food options like popcorn, hotdogs, and a variety of drinks.
Dolphins Golf Club is a sports club located inside Navy Town Barracks in Ojo. It has excellent facilities for its members and is a great place to practise golf while taking in the beautiful scenery. After a good game, there is a bar on the premises where you can unwind.
High productivity necessitates both a healthy body and a healthy mind, emphasising the significance of visiting a spa. Body exfoliation, facials, pre and post-natal massage, and deep tissue massage are all available at Danisty Spa.
In Ojo, there are numerous places to eat. To enjoy a variety of food options, visit Kingston-Joe Eatery, Palatable Restaurant, or Amala Extra.
Flex Bar, Spa and Hotel Credit: mapsus.net
The Flex Bar Spa and Hotel is well-known for its lively nightlife in addition to meeting lodging needs. It has everything from a swimming pool to a game arcade for snooker and music fans. All of this is catered for by the customer service-oriented staff.
Mikkens Lounge provides a taste of pure delight in both music and cuisine. There is never a dull moment with the DJ and his party mixes. A variety of drinks are available to accompany plates of specially prepared Nigerian food. Suya, nkwobi, asun, assorted (orisirisi), pepper soup, barbecued fish, and so on.
With reasonable rates, you can unwind at this lounge on Ajangbadi Road in Ojo. Other options include the Eight-16 Executive Lounge Restaurants & Bar, Unique Caesars, and In-House Bar.
Treasure Court College. Credit: Facebook.
Treasure Court College, which is on Dickson Adebayo Street in Ojo, is proud of doing well in big school competitions like the popular Cowbell Mathematics Competition, where it once came in second place.
Your children will learn in a safe, interesting, and high-quality environment at White-Waters School, which also has state-of-the-art facilities for both classrooms and extracurricular activities. The school is also known for being a place where kids with special needs can learn. It is a day school, and if you register at least three children, you will receive a 10% discount on the third sibling.
Treasure Court College has been in the business of grooming future leaders for nearly two decades, with dedicated teachers and a standard curriculum that sets them apart.
Other options are Blessed Redeemers School, Augusta International School, and Casitas School.
Do you want to know how much it would cost to live in Ojo? Here are the average property prices in Ojo, Lagos.
Some available property in Ojo