Jakande. Credit: Secure Nigeria
Jakande is one of the popular areas in Lekki Phase 2, Lagos. It is accessible via the Lekki-Epe Express road.
Jakande is serene and is a hub for mostly middle class Nigerians. Due to its location, it is open to amenities within its territory and other elite areas surrounding it.
The area, Jakande was named after Alhaji Lateef Jakande, the first civilian governor of Lagos State. He ruled from 1979 to 1983. He died on February 11, 2021, at 91 years old.
Surrounding areas around Jakande are Osapa London, Agungi, and Ilasan.
In this guide, you will find out about:
Lateef Jakande. Credit: Google
Despite only ruling for a few years, he had a huge impact, and his legacies and imprint will be remembered by many Lagosians. His administration is credited with the development, planning, and transformation of Lagos into a modern city, which resulted in the birth of infrastructures in all sectors of the state. As a result of his accomplishments, various estates in Lagos have been named after him.
It is interesting to note that you will find different areas called Jakande in Lagos but the most popular one is this one in Lekki Phase 2. The second most popular Jakande is in Isolo.
Despite the fact that Jakande is primarily residential, it also houses a number of prestigious businesses. Mic Block Industry, Technocrime Security Limited, Poise Nigeria, AA Rescue Limited, and NTEL are among them.
Jakande Art Market. Credit: Google
If you enjoy African culture, you should go to Jakande Art Market, also known as Bar Beach Market. It is a relatively clean market that attracts tourists from far and wide. You can find various types of art work as well as other African-made products such as bags, furniture, jewelries, beads, clothing sculptures, and accessories. Fruits, vegetables, household items, and food can also be purchased here.
Blenco Supermarket is jam-packed with wines, electronics and household items, provisions, beverages, and cosmetics, just to name a few. It is very clean, and the staff is always willing to assist.
In Jakande, there are also many roadside shops where residents can get edibles and everyday items.
Cadogan Place Estate. Credit: Google
Femi Okunnu Housing Estate Phase 1 is a peaceful and comfortable residential area with well-maintained buildings. People are calm, and security is tight. There is also a steady power supply, clean water, a good drainage system, and a well-paved road. Due to its close proximity to Circle Mall and other malls, residents will not have to travel far to meet their household needs. The estate's houses are also reasonably priced, depending on your preferences and specifications.
Cadogan Place Estate is a well-kept estate with well-planned road layouts and effective drainage channels. It also has a sufficient supply of water and electricity. No one is permitted to enter the estate unless accompanied by a resident. Each block has well-defined parking lots, and at night, street lights illuminate the estate.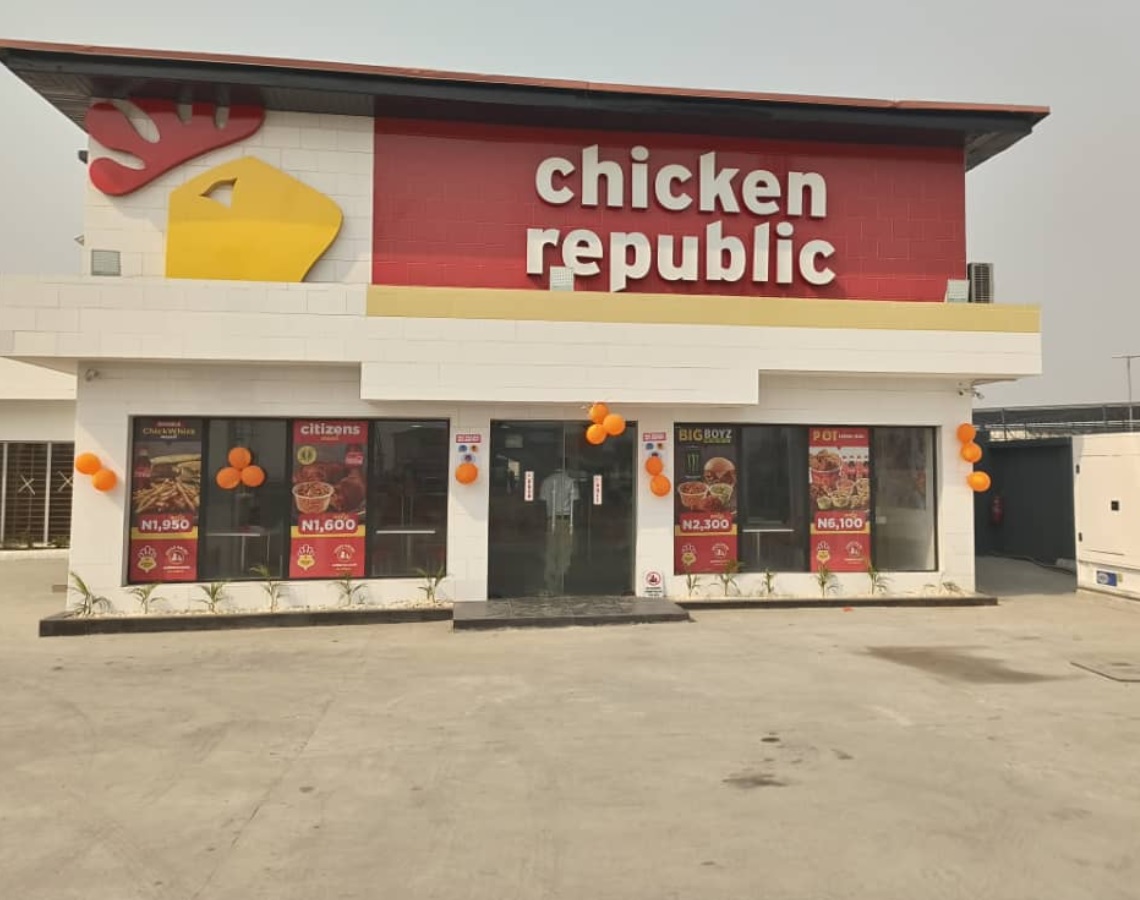 Chicken Republic. Credit: Google
Chicken Republic is a good place to go if you want good food at a reasonable price. Chicken, rice, fries, and snacks are available here. This popular fast food restaurant has a pleasant atmosphere and is suitable for families. There is also plenty of parking with guaranteed security.
The Domino's Pizza in Jakande, like other Domino's Pizza locations, serves delicious pizza in a variety of flavors. Their employees are courteous and quick to respond. If you want ice cream with your pizza or on its own, just walk into the Cold Stone Creamery right next to it.
KFC is famous for its buckets of fried chicken and fries. It has a relaxing atmosphere and well-organized seating arrangements. It's a great spot for a quick brunch or lunch, as well as a hangout or date.
Bukka Hut is another excellent restaurant with a diverse menu. As the name suggests, they aim to create the "Buka" experience while maintaining a classy and posh environment and service. Cedars Grill also serves delicious finger foods like spring rolls and samosas.
Deezmundu Traditional Beauty Spa is an excellent choice for a body scrub and massage using only natural products.
There are many other places to visit in Jakande because it is located in Lekki Phase 2 and is surrounded by equally beautiful areas.
3.0 Lounge. Credit: Google
3.0 Lounge offers good food and a live band in a wonderful environment. You can also play snooker or watch your favourite sports on TV while you are at it; or better still, enjoy karaoke on Saturdays. Food here includes barbecue, catfish pepper soup, and so on. The lounge also provides auto services such as car washing, changing of tires and so on.
You can also check out Princess Bar or Iya Alaje Bar to cool off after a long day.
Anthos House. Credit: Google
If you want a school that runs a unique blend of British and Nigerian curricula for your children, RubyGold British School is the place. The school aims to render great education in line with how it can be used as a transformational tool in the advanced technological age. Its mission is to provide world-class education to children. It boasts of inculcating high moral and ethical values in students while preparing them for lifelong learning, service and fulfillment. The school runs both primary and secondary education.
Anthos House is one of the leading special needs schools in Lagos State and Nigeria. It is a unique school that believes in an integrated approach to education, care and therapy. Anthos House is also a warm and conducive school that boasts of qualified and caring teachers, therapists and staff. They offer vocational skills, life skills, with laboratories like Virtual Reality (VR) laboratory and sensory room. The school is equipped with state-of-the-art learning facilities with standard boarding facilities.
Other primary schools in Jakande are Spotlight Academy, JITY Pre School and Royal Treasures Junior School. Another secondary school in Jakande is Ilasan Junior Secondary School.
Do you want to know how much it would cost to live in Jakande? Here are the average property prices in Jakande, Lekki, Lagos.
Some available property in Jakande