Ikota, Lekki. Credit: facebook.com.
Ikota is a residential area in Lagos State's Eti-Osa Local Government. It can be reached via the Lekki-Epe expressway. It is a serene and peaceful residential neighbourhood.
Ikota is in the popular Lekki neighbourhood. Lekki's history dates back to the 1990s, when it was known as Maroko. Residents of the former Maroko slum had extremely limited economic opportunities. They were unable to save themselves and were forced to stay in the perilous situation. Colonel Raji Rasaki, the then-military State Governor of Lagos, intervened and evicted them so that they could be rebuilt. Despite the government's actions, Lekki is now a prestigious residential and commercial district.
VGC, Ajah, Lekki Phase 2 and Ibeju Lekki are some of the neighbourhoods surrounding Ikota.
In this guide, you will find out about:
Property in Ikota. Credit: Nigeria Property Centre
Who would have thought that a Lagos Island neighbourhood would have a well-balanced mix of upper and lower class residents?
Ikota is the embodiment of a tale of two worlds, and it is accessible to people of all socioeconomic backgrounds.
The two distinct lifestyles coexisting in the same neighbourhood will fascinate you. Ikota Villa Estate is home to the upper class, while Ikota Village is home to the lower class. The majority of houses in Ikota Village are small, unfenced, and old, whereas those in Ikota Villa Estate are the inverse.
Ikota is also a strategic location because it is close to important areas in Lagos State such as Lekki Phase 2, Ajah, and Ibeju Lekki
Funderland Mall. Credit: visitnigerianow.com
Ikota Shopping Complex is the place to go if you want to do all of your shopping in one location. It is a modern shopping mall with approximately 3000 stores excluding banks, restaurants, and public facilities. The Ikota shopping centre serves as a one-stop shop. Everything you need, from food to household items, is available here. The complex also has a grocery store and a bank.
Funderland Mall is an 1800 square metre marvel that offers a diverse range of shopping and entertainment options. It is the ideal mix of leisure and shopping. Visitors can shop for groceries while also spending time with family and friends. They can also go roller skating, swimming, or to cafes, restaurants, or arcades.
Ikota's largest and best-stocked supermarket is Prolific Shoppers Supermarket. It is made up of a strong team of people who work tirelessly to complete their tasks. Their products are of the highest quality and provide the best value. Prolific Shoppers Supermarket has reasonable prices and a fantastic product selection that will entice you to come back for more!
Other shopping options include Platinum Mall, Ebeano Supermarket, and Zetile Supermarket.
Apartment in Lekki County Estate. Credit: Twitter
Ikota Villa Estate is one of the most popular estates to choose from. It is near the Lekki-Epe expressway. It is a sprawling estate with numerous smaller courts and estates. It has both old and new homes of high quality. There is also plenty of water and electricity. Ikota Villa Estate has a gated entrance and excellent security.
Another of the many estates available is Lekki County Estate. It is a subdivision of Ikota Villa Estate. It has flowers and plants almost everywhere and covers 66.8 hectares. The surroundings are always clean and tidy. Residents have access to necessary utilities such as good roads, power, water supply, and an effective drainage system. The estate also has a comprehensive security system.
Melrose Park Estate is yet another lovely estate. It occupies four hectares of land. It only has a few buildings under construction, but residents enjoy amenities such as underground electricity lines, good roads within and outside the estate, and 24-hour power and water supply, among other things. Melrose Park Estate also provides adequate security.
Westend Estate, Cluster One Estate, and Ikota GRA Estate are among the other estates to visit.
Mega Chicken. Credit: megachicken.com
For foodies, The Place Restaurant provides excellent yet reasonably priced meals ranging from global to local dishes. It is also a great place to unwind and relax. It has a relaxing atmosphere and is ideal for a quick meal during a work break or a date.
Mega Chicken is another great option if you want good meals at a reasonable price. This well-known restaurant serves every type of food imaginable. Aside from eating, there are arcades and games for both adults and children. Mega Chicken is an excellent choice for a family outing. There is also plenty of secure parking.
Funderland is a fantastic recreational facility, especially for children. Activities include roller skating, swimming, and arcade games. There is also a book club, restaurants, and event space for rent.
A popular nearby attraction is the Lekki Conservation Centre. This is a nature preserve where plant and animal life are protected. This is a must-see attraction for people who want to overcome their fear of heights and enjoy adrenaline-pumping activities. Tour guides are available to assist you and provide information about the conservation centre.
You can also climb to the tree house, use the basketball and volleyball courts at the family park, or play a game of floor-sized chess. The LCC has a number of sheds where you can enjoy a picnic or some alone time.
Avista Beach Resort is an opulent leisure and staycation destination near Ikota. With spacious lodgings and natural beach grounds, you can expect a relaxing vacation. Day trips are also available for friends and families to enjoy cuisine, drinks, and the fresh coastal air.
After a long week of work, go to any of the nearby spas to relax and be pampered. The Athaliapeach Spa is an excellent choice. The spa's employees are well-trained and understand how to care for their clients. Other options include MMB spa, Paradise spa, Sdb spa, and Oxid luxury.
Other great places to have fun and relax during the day include Sphinx fast food restaurants, Chopaholics, Best value restaurants, and Roadchef.
Askamaya Night club. Credit: nightlife.ng
Askamaya NightClub in Ikota Lekki is a popular nightlife destination. It has a lovely pool and a lovely atmosphere. On a regular basis, there is a strip club, a BBQ zone, and live stage performances. The atmosphere is lively, open, and airy. Accommodation is also available for visitors who wish to stay the night.
Gravity NightClub is an indoor and outdoor nightclub with attentive staff dedicated to providing the best possible liquor and wine experience. The DJ does an excellent job, allowing you to relax after a long day and thoroughly enjoy the evening.
Club Mirage, Just Ask Club, Empire Lounge, and Heks Lounge are a few other places to unwind after a long day.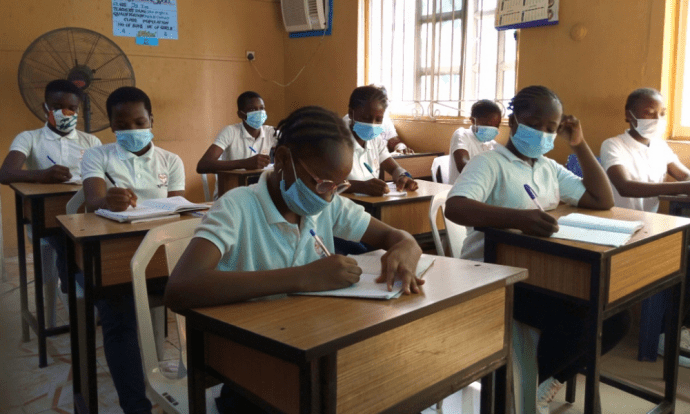 Students of Master Moulders Academy. Credit: mastermouldersacademy.org
Master Moulders International Academy is a coed school with a creche, nursery, primary, and secondary schools. It is a coeducational private school for both boys and girls. The school promotes a safe and enjoyable environment for learning and teaching. Their staff is genuinely concerned about the children and their future, and they encourage them to be themselves.
Another excellent school in Ikota is St. Mary School. It is divided into three sections: nursery, primary, and secondary school. You can enrol your child or children to ensure that they receive the best education possible. The team is well-trained to meet the needs of their students.
Jesilo High School is a secondary school founded in 2001. They offer their children a variety of academic and extracurricular activities. They also hope to raise godly children who are mentally and socially strong enough to overcome adversity and achieve great things in life.
Sureville Montessori School, Podium International Schools, Delphi International School, and Marble Hill School Lagos are just a few of the well-known schools in Ikota to consider for your children's education.
Do you want to know how much it would cost to live in Ikota? Here are the average property prices in Ikota, Lekki, Lagos.
Some available property in Ikota