Omole Phase I. Credit: Nigeria Property Centre
Omole Phase 1 is a private estate in Ojodu that is home to a small number of wealthy residents. Ojodu local council development, which is located in Oke Ira, Ogba Ikeja, Lagos, was formed in 2003 from the old Ikeja local government.
The old Ikeja LCDA was reorganised as the Ojodu LCDA to supplement Lagos State's original 20 local government areas. Powerline, Agidingbi (a subset of Agudi), and Ojodu Berger comprise the entire group (another subset).
It is bordered by Magodo to the north, Agege to the south, Alausa to the east, and Akute to the west. Other nearby communities include Ogba, Magodo, Berger, and Isheri.
Omole Phase 1 is entirely residential and located near the Lagos-Ibadan Expressway, one of the city's main thoroughfares.
In this guide, you will find out about:
Psquare's Mansion. Credit: independent.ng
Would you have guessed that Paul and Peter Okoye, better known as P Square, owned a 300 million naira home on Lola Holloway Street in Omole Phase 1?
The 'Squareville' twin building features a swimming pool, an underground cellar, six living rooms, ten master bedrooms, and other unique amenities. The celebrities moved into the mansion in 2010, but it was put on the market in 2017.
It is also worth noting that Omole Phase 1 is one of Lagos's oldest housing developments. This does not reduce its efficiency, but rather increases its luxuries and provisions.
Omole Phase 1 has its own shuttle service. This is done to improve the convenience of community transportation. Residents' vehicles are issued car tags at the gate. The area is dotted with police and checkpoints, and patrols are conducted on a regular basis, especially at night. Because of the proper security, nice roads, clean streets and drainages, consistent power supply, and powered street lights, Omole phase 1 is an ideal place to live.
Another intriguing fact is that Omole Phase 1 has a sister estate, Phase 2, with similar characteristics. Surprisingly, they are not in close proximity to one another.
Because of its proximity to Ikeja, the state capital, Omole Phase 1 is one of the most sought-after areas on Lagos's mainland. This place checks all the boxes if you are looking for a nice place to live.
Old English Superstore. Credit: worldorgs.com
Old English Supermarket in Omole Phase 1 provides in-store service. It is a really nice store for household items that also has a bakery with the best bread. The store is conveniently located and well-stocked. They have great products and even better customer service. You can not help but stop by whenever you are in the area.
Riggs Plaza is a fantastic shopping destination. It is situated on Isheri Rd. Riggs Plaza houses a wide range of businesses, including salons, pharmacies, and a shopping mall. The plaza's functions include offering a wide range of services and products to its expanding customer base. The plaza's prices are very reasonable.
Choice House is another excellent indoor shopping destination. Quality merchandise is available at reasonable prices, and the staff is extremely friendly, accommodating, and always willing to assist.
Mag Diva Boutique sells hair and beauty products, as well as other luxury items and clothing. They offer the best prices on high-quality goods. Employees are friendly and eager to assist you in having the best shopping experience possible, making you want to return again and again.
Other places to shop for quality and affordable goods at reasonable prices are Bamboo plaza and Omole plaza.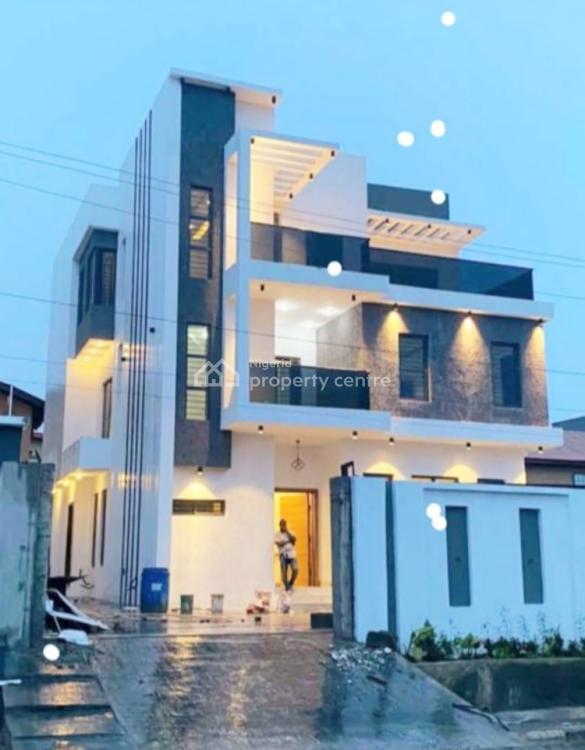 A Duplex in Omole Phase 1. Credit: Nigeria Property Centre
Omole phase 1 is a single estate with no sub-estates. The estate, however, is divided into zones to aid identification. Tioluwani's law zone, Apple zone, and Diary zone are among the zones. There are many houses to choose from in these zones.
In Omole Phase 1, you can live in a variety of beautiful and well-furnished Bungalows, Duplexes, Townhouses, and Mansions. The atmosphere is serene and secure. Because of its serenity, cleanliness, and cool atmosphere, the neighbourhood is regarded as one of the best residential estates in Lagos.
It has a lot of beautiful houses that you will fall in love with. There are a few hospitals in the area. The streets of Omole Phase 1 are adorned with flowers and street lights. The majority of the houses are surrounded by electric fences.
Omole Phase 1 includes streets such as Lola Holloway Street, Adeyemo Akapo Street, Obadina Street, and Olawole Omole Street.
Omole Phase I is a well-planned residential estate with flowers and trees, a nice layout, and a lovely landscape.
Johnson Jakande Tinubu Park. Credit: nairaland.com
Maden Place is a restaurant directly across the street from Omole Phase 1, where you can share a variety of well-prepared meals with family and friends. Their meals are carefully prepared and supervised. They make certain that every customer is completely satisfied with every visit.
Another popular eatery in Omole Phase 1 that residents visit for a fun night out with their friends is Sweet Sensation. Visitors can select from a wide range of dishes and pastries. One of their selling points is their affordability.
Those looking for authentic local cuisine know that the Calabar Kitchen and OYO the Amala Place are the best places to go.
Ahmiespicy kitchen and grills and Milkaura meals are two other restaurants in Omole phase 1.
Johnson Jakande Tinubu Park is only a 10-minute drive away for Omole Phase 1 residents. This park offers a peaceful and pleasant setting ideal for gatherings, picnics, hangouts, or business meetings. You can also take your children to the playgrounds to have fun.
Kanu Ndubuisi Park, just across the street, is another peaceful spot to relax and enjoy the scenery.
There are many spas in Omole phase1 if you want to pamper your body. The Latopbee Royal Spa and Salon is an absolute must-see. They are based on skin, body, and service treatments that our well-trained and certified staff meticulously delivers to our valued clients. They offer a variety of services, including Moroccan baths. Microblading, waxing of the skin, acne removal facials, body exfoliant, pedicure and manicure, and a variety of other wonderful services are available. K-dove Place and Spakools Beauty spa and skincare are also options.
Mind Builders School. Credit: www.mindbuildersschool.org
Some of the most prestigious schools in Lagos State are located in Omole Phase 1. You can be confident that your children will enjoy learning in a comfortable setting.
Gem Private School is one of the best private schools in Omole Phase 1. Their mission is to provide students with the best possible learning and character foundation. It is a government-approved private school in the city. They have a pleasant and advantageous learning environment. They have nursery and elementary schools.
Cute Twinkles School is another top school in Omole phase 1. Cute Twinkles School is located in Omole Estate's Phase 1. They serve children aged three months to ten years. Nurses are employed in their creche services. They provide excellent care for babies in the creche, as well as dedicated Montessori trained teachers in the nursery department and graduate teachers in the primary school; all of this is geared toward providing the best education possible for children.
Mind Builders School in Omole Phase 1 is one of the best schools in Nigeria. It has a nursery, primary, and secondary school spread across the estate on various campuses. They give each student the skills and qualifications they need to succeed. To achieve academic excellence, they provide affordable and high-quality education in a variety of subjects.
Value Plus School, Cradle and Kickers Nursery and Primary School, and Fasta International School are among the other excellent schools in Omole Phase 1.
Do you want to know how much it would cost to live in Omole Phase 1? Here are the average property prices in Omole Phase 1, Ikeja, Lagos.
Some available property in Omole Phase 1