Ogba. Credit: wantedinafrica.com
Let me introduce you to Ogba, the beating heart of Ikeja. It is about five kilometres west of Ikeja and falls under the Ojodu Local Council Development Area.
The Yoruba word 'Ogba' means "home," "garden," or "compound."
According to some accounts, Ogba was founded by a prince from Ile-Ife, prince Owoeni Asade, who left Ile-Ife in the late 17th century. Ifa Oracle advised Owoeni and his brother, an Ifa priest, to leave where they were at the time. They eventually made their home in modern-day Ogba.
Ikeja Local Government Area borders Ogba on the north, Ifako-Ijaiye Local Government Area on the south, Agege Local Government Area on the east, and Ojodu Berger on the west.
In this guide, you will find out about:
Guinness Nigeria Plc. Credit: Worldorgs
You may refer to Ogba as the "small but mighty" from now on. Despite its small size, Ogba is home to a number of notable businesses and industries. Cadbury Nigeria, Guinness Harp Plant, and Daily Times are all located in Ogba.
Cadbury Nigeria produces popular sweets and beverages such as Bournvita and éclairs. Guinness produces well-known beers such as Harp and Guinness, and the Daily Times is one of Nigeria's oldest newspapers.
Ogba is a popular choice among Lagos residents due to its proximity to the city's capital, Ikeja. To cut down on commute time, you can live in Ogba and work in Ikeja.
While some areas of Ogba are entirely residential, others, particularly those near the market, are primarily commercial. Ogba is unique because it combines the best of both worlds.
People flock to Ogba on Sundays to visit the "Sunday Market" on Wemco Road. It has grown in popularity and is thought to be one of a kind. On Sundays, you can get almost anything in the market, including seafood, household items, and other necessities, at reasonable prices.
Another fascinating aspect of Ogba is that it is home to numerous banks, including Access Bank, First Bank, Zenith Bank, Enterprise Bank, EcoBank, Fidelity, Union Bank, UBA, Keystone, Heritage Bank, and others.
Ogba Multipurpose Shopping Complex. Credit: Google
Take advantage of Ogba's numerous shopping malls. These shopping malls have almost everything you could possibly require.
The Ogba Multipurpose Shopping Complex, which is located along the Sunday market, is currently Ogba's largest mall. It is a convenient shopping mall with a variety of stores offering services such as clothing, home accessories, electronics, and so on, as well as some offices.

The shopping complex has a parking space as well as elevators and escalators for easy movement. Despite the bustling nature of Ogba, security access is orderly, and the shopping complex is quite calm, especially on the inside.

As previously stated, the popular Sunday market in Ogba is always crowded on Sundays. Market women from various tribes bring their wares to sell. Despite the fact that it is a daily market, Sunday is a special day for the sale of fresh farm produce, dairy products, seafood, fruits, and any other foodstuff or ingredient you can think of at bargain prices. The market is located near the Retail Market and the Ogba Multipurpose Shopping Complex on Wemco Road.

Visit Odo-Eran Shopping Centre, a mini plank market that sells everything furniture and woodwork, for furniture accessories and add-ons.

PetShop is a one-stop shop for all of your pet and animal needs. Animal supplies and pet accessories such as toys, collars, cages, leashes, and other items can be found here.

The LSDPC Ogba Shopping Arcade has a well-organized set of shops that provide various services, such as provision sales and offices, such as consulting firms. It is easy to find because it is right next to the road. Hair salons, boutiques, children's stores, and a bureau de change are among the other stores in the LSDPC Shopping Arcade.

PEP Store sells affordable children's clothing, toys, shoes, and hair accessories, as well as some adult clothing.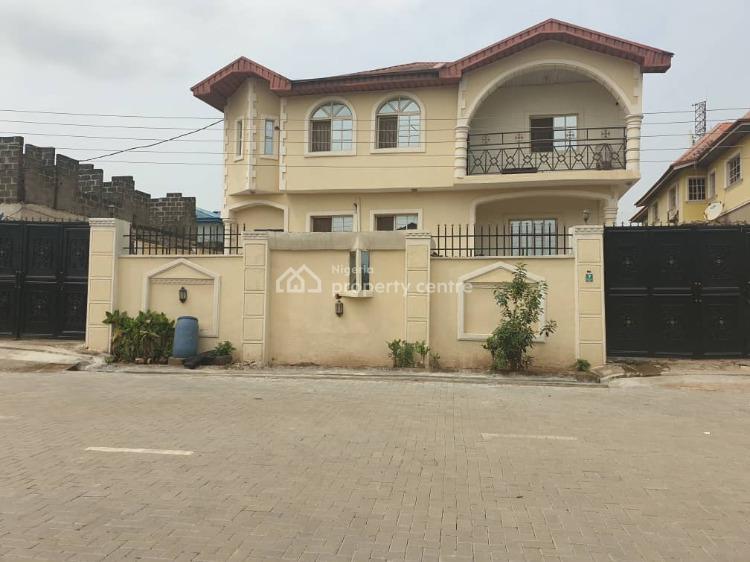 House in Ogba. Credit: Nigeria property centre
Ogba has lovely, quiet, peaceful, and spacious estates, in addition to estates that are family-friendly and well-organized.
Harmony Estate's street names are prominently displayed, making them easy to find. The roads are tarred and there is excellent security. For those looking for a place to stay in Ogba, this estate is a good option.
Dideolu Estate is another private and secure estate in Ogba. There are businesses, grocery stores, and a school on the premises to meet the needs of residents without requiring them to travel too far.
The Place Restaurant. Credit: Google
What good is shopping and working if there are not places to eat, relax, and experience Ogba's daily life?
Visit Kulture Yard, also known as Buchi's Place, if you are looking for a cool place to relax and eat. While you are here, try the famous grilled fish and other African delicacies and cuisine, as well as a variety of drinks.
The Place Restaurant, Ros Restaurant, Odir's Kitchen, Enjoyment Restaurant NG, Divine Food Concepts, Nana's Buka, and Mega Chicken are some of the other popular restaurants.
Whether you are craving regional specialties or continental fare, these Ogba restaurants offer a wide variety of both at reasonable prices. They are ideal for team lunches and mini-meetings. Some of them also provide catering and delivery services.
Flawless Esthetics is a salon that specialises in hair, nails, and skin care. They provide maximum pampering at a reasonable cost. They have excellent customer service as well.
Fab's Beauty and Spa, Tari Anne Natural Hair Salon and Spa, Eldorado Salon and Spa, and Victoria's Beauty Exquisite Day Spa are among the other spas you can visit.
Ace Lounge. Credit: Google
In Ogba, there are a number of excellent bars and nightclubs to visit. These places are perfect for a night owl who knows how to have a good time.
At Sinatra Place, which has a hotel, outdoor and indoor lounges, you can enjoy premium chilling. The bar is large enough to hold more than 100 people at once. At Sinatra Place, you can get any type of food or drink you want.
Ace Lounge, Trace, Lascofis Bar, Nissi Bar, Saint and Sinner S and S Bar, Classic bars, and so on are all worth visiting.
Acehall School. Credit: Google
Many schools in Ogba are well-equipped with facilities to help children learn more effectively.
Keedees Foundation School has ICT facilities, a swimming pool, and a sports complex/playground, among other things. They also participate in club activities such as chess, music and drama, ballet, debate/press, and others.
Dideolu Estate is home to Oakdale Infant and Junior Mixed School. The school's mission is to provide a broad and balanced education for children aged 1.5 to 11 years with moderate and affordable school fees.
Acehall School, Ogba Primary School, Purplestars School, ATG Nursery and Primary School, and Nikwhales Nursery and Primary School are among the other primary schools in Ogba.
Babcock University Secondary Schools, Ogba Junior Grammar School, Faith Academy, Starland Private School, and others are among the most popular secondary schools.
Ogba also has a branch of the Lagos Business School. This school aspires to be a world-class business school that teaches management and business knowledge and has a significant impact on management practise.
Do you want to know how much it would cost to live in Ogba? Here are the average property prices in Ogba, Ikeja, Lagos.
Some available property in Ogba