Owerri. Photo Credit: Google Photos.
Owerri, located in the heart of Imo State, is a captivating destination that combines history, culture, and modernity. Owerri serves as the capital city of Imo State, boasting a rich tapestry of fascinating attractions, thriving leisure and shopping options, esteemed residential estates, enticing day and nightlife scenes, and renowned educational institutions.
In this guide, you will find out about:
Nekede Zoo. Photo Credit: Steemit, Website.
Owerri, also known as the Eastern Heartland, gets its moniker from its location at the center of Igboland, symbolically positioning it as the thriving center of entertainment in Southeast Nigeria. Owerri exhibits a harmonious fusion of man-made marvels and natural beauty with its striking urban structures and lush greenery.
The Mbari Cultural and Art Centre stands as a prominent focal point, displaying the essence of Igbo traditions through its unique architectural style and intricate sculptures. With its inception dating back to 1961, this renowned establishment serves as a vibrant nucleus, actively fostering the preservation and celebration of the rich cultural heritage of the Igbo people.
Owerri also has Nekede Zoo situated in the city and offers a captivating haven for nature enthusiasts, housing an array of captivating wildlife species. This enchanting sanctuary, founded in 1976, presents visitors with an exceptional chance to behold and marvel at the diverse tapestry of creatures. It serves as an immersive gateway into the wonders of the natural world, granting visitors an unparalleled opportunity to observe and deeply appreciate the mesmerizing array of animal life.
The illustrious Dan Anyiam Stadium in Owerri stands as a prominent sports complex, renowned for its role in hosting a plethora of sporting events and activities. Boasting a storied past, this iconic facility has been a witness to numerous unforgettable athletic competitions, etching its name in the annals of sporting history.
Heroes Square. Photo Credit: Google Photos.
Owerri Mall is a highly sought-after hub for shoppers, providing an extensive selection of retail establishments, supermarkets, and entertainment facilities. This premier destination offers a comprehensive experience for individuals passionate about shopping. Whether you're seeking to indulge in retail therapy, savor delectable cuisine at the mall's eateries, or immerse yourself in the exciting game arenas, Owerri Mall caters to all your desires under one roof.
Heroes Square is a Park in town that consists of a mini stadium and the statues of past leaders erected by the past Imo State governor, Rochas Okorocha, to celebrate the good works they have done for their countries and the African continent as a whole. It is a perfect place to go to learn about past leaders, take pictures, and get revived by architectural masterpieces after or during a stressful day.
SaveMore Market is an impressive and expansive shopping mall that offers a delightful and extensive range of products. The supermarket boasts an impeccable layout and is abundantly stocked with fascinating and one-of-a-kind items. In terms of pricing, SaveMore Market stands out as a fair and competitive option compared to other supermarkets in Owerri. Moreover, the supermarket exudes a fantastic atmosphere that ensures a gratifying and satisfying shopping journey.
Beaula Beach Estate. Photo Credit: Google Photos.
Beaula Beach Estate is a sought-after residential estate in Owerri known for its elegant homes and beautiful landscapes. It offers residents a luxurious living experience with well-designed houses and a serene environment. The estate also boasts amenities such as parks, playgrounds, and recreational facilities, providing ample opportunities for outdoor activities and leisure.
World Bank Housing Estate is a prestigious gated estate offering a mix of luxurious villas and upscale apartments. The estate provides residents with an exclusive living environment characterized by high-quality construction and sophisticated architectural designs. With tight security measures in place, residents can enjoy a serene and secure lifestyle. The estate's serene surroundings and well-maintained landscapes further enhance the overall living experience.
Pwan Homes is a well-planned residential estate that offers a range of housing options, including detached houses and townhouses. The estate is designed with a focus on security and family-friendliness, ensuring a safe and comfortable environment for residents. Pwan Homes is known for its beautiful landscaping and offers a variety of amenities to enhance the quality of life, making it an attractive choice for families and individuals seeking a secure and pleasant living space in Owerri.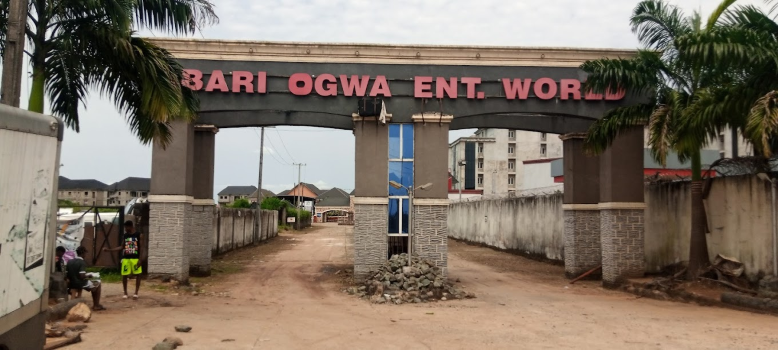 Ibari Ogwa Entertainment World. Photo Credit:Chinedu Hardy Nwadike, Google reviewer.
Ibari Ogwa Entertainment World is a popular recreational center that offers a diverse range of entertainment options, making it a favorite destination for locals and tourists alike. The venue features live music performances by renowned artists, vibrant nightclubs where you can dance the night away, and bars serving a variety of drinks. Additionally, Ibari Ogwa Entertainment World hosts comedy shows, cultural events, and other forms of live entertainment to keep visitors entertained and engaged.
Oguta Lake and Golf Resort is a picturesque destination that combines natural beauty with recreational facilities. The resort is centered around Lake Oguta, which is the largest natural lake in Imo State, Nigeria. Visitors can enjoy various water-based activities such as boat rides, fishing, and swimming in the pristine lake. The resort also features a well-maintained golf course, offering golf enthusiasts a chance to tee off amidst stunning surroundings. With comfortable accommodations, restaurants, and other amenities, Oguta Lake and Golf Resort provide a relaxing getaway for visitors seeking tranquility and outdoor leisure.
The National Museum is a cultural institution dedicated to preserving and showcasing the rich history and heritage of Nigeria. The museum houses a diverse collection of artifacts, artworks, and historical items that highlight the cultural traditions and artistic expressions of the region. Visitors can explore various exhibits that cover topics such as traditional crafts, archaeology, indigenous Nigerian cultures, and colonial history.
Spasso Lounge. Photo Credit: Google Photos.
Cubana Lounge is a popular nightlife spot known for its lively atmosphere and energetic parties. It offers a vibrant clubbing experience with live DJs, dance floors, and a wide range of drinks. The venue often hosts events featuring local and international artists, providing an exciting nightlife experience.
Spasso Lounge is a trendy establishment that combines a bar and lounge experience. It offers a stylish and relaxed ambiance where patrons can enjoy a variety of drinks, cocktails, and delicious food. The lounge often features live music performances and DJs, creating an enjoyable and laid-back atmosphere.
Las Vegas Lounge & Nite Club is a popular nightlife destination in Owerri. It offers a vibrant nightclub experience with pulsating music, energetic dance floors, and a diverse range of drinks. The venue often hosts themed parties, events, and performances by local and guest DJs, ensuring a dynamic and entertaining nightlife experience.
Federal University of Technology. Photo Credit: FUTO Owerri, Facebook page.
The Federal University of Technology, Owerri is a renowned higher education institution in Nigeria. It is known for its focus on science, technology, engineering, and mathematics (STEM) fields. FUTO offers undergraduate and postgraduate programs in various disciplines and is recognized for its commitment to academic excellence and research.
Broad Oak Schools is a notable educational institution that provides quality education to students from nursery to secondary levels. The school is dedicated to holistic development and offers a well-rounded curriculum that encompasses academics, sports, arts, and extracurricular activities.
Marist Brothers Juniorate is a school that focuses on the holistic development of young students. It offers education at the junior secondary level and is affiliated with the Marist Brothers, a Catholic religious congregation. The school emphasizes character-building, academic excellence, and the nurturing of spiritual values.
Government College Owerri, also known as GTCO, is a historic secondary school in Owerri. It has a long-standing reputation for academic excellence and has produced notable alumni in various fields. The school offers a wide range of subjects and extracurricular activities to foster all-round development among its students.
Do you want to know how much it would cost to live in Owerri Municipal? Here are the average property prices in Owerri Municipal, Imo.
Some available property in Owerri Municipal